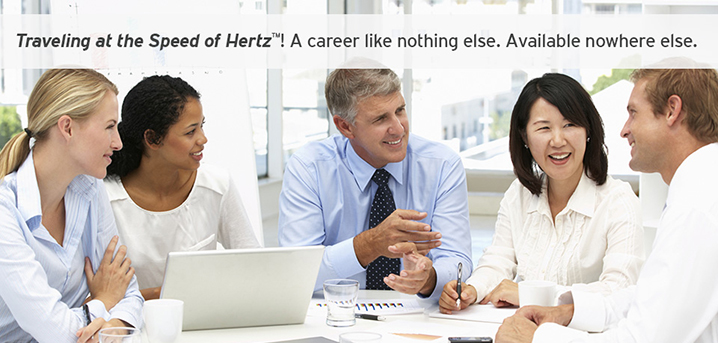 Hertz Careers
Congratulations on taking the first step in becoming a part of the highly qualified and motivated team that makes Hertz one of the top car rental/car leasing and equipment providers in the world. Joining the Hertz team is both a rewarding and challenging experience and can place candidates in any of our available positions in many of our airport, off-airport, regional, branch and headquarter facilities.
For U.S./Canada opportunities please visit http://hertz.jobs
For EMEA opportunities please visit https://emeahub-hertz.icims.com
For Dollar/Thrifty opportunities in the U.S. please visit  https://usjobs-dtag.icims.com/
Visit our Hertz Careers US page on Facebook
Visit our Hertz Careers EMEA page on Facebook
If you're interested in our opportunities know that Hertz is guided in all that we do by our Vision, Mission and Values. These principles are the key to how we treat our employees, our customers, our business partners, and our shareholders.

Our Vision - We will be the global leader in mobility and equipment solutions.

Our Mission  -Our Mission is to be the lowest cost, highest quality and most customer focused rental company in every market we serve, creating value for our shareholders. We will achieve our Vision and Mission by focusing on, and balancing, customer satisfaction, employee satisfaction, and asset management, with equal emphasis on efficiency and growth.
 
Our Values
P Passion & Professionalism
R Respect & Responsibility
 I Innovation & Integrity
D Diversity & Discipline
E Excellence & Execution
Definitions of our Values
Passion - Wanting to win now
Professionalism – Using our skills and expertise effectively and collaborating seamlessly
Respect - Valuing the contributions of each other and our partners
Responsibility - Being accountable for our decisions and actions
Innovation - Using imagination and initiative to drive growth and efficiency
Integrity - Acting ethically, fairly, honestly and transparently
Diversity - Making our differences a competitive advantage
Discipline - Applying processes to set and achieve our goals
Excellence - High quality performance to produce outstanding results
Execution - Following through and delivering on our promises


The Hertz Corporation is an Equal Employment Opportunity/Affirmative Action employer and provides reasonable accommodations for qualified individuals with disabilities or are disabled veterans. Please be aware of fraudulent recruiting practices and individuals posing as Hertz representatives. All official Hertz personnel have the email address @hertz.com.
If you are located within North America and need any accommodations with the online job application procedure due to a disability, you may contact 1-888-222-5650, between the hours of 8:30 AM and 4:30 PM EST, or email narecruitmenthelp@hertz.com