Virgin America (VX)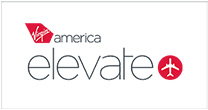 Elevate members will be eligible to earn:  One point for each dollar spent on qualifying rentals.
Transactions occurring outside the U.S. will be converted into U.S. dollars to determine mileage award.
Points will not be awarded on taxes, fuel or fees.
A flight will not be required to earn miles.
Points can be earned on all qualifying rentals at participating Hertz locations worldwide.
Elevate account number is required to receive point credit.
U.S. Service Center: 1.877.FLY.VIRGIN (877.359.8474)
Virgin America Elevate discount number CDP: 1916490
You can request Retroactive Credit.  Retroactive Credit can be requested up to 6 months after rental date by clicking on the "Retroactive Credit Form" below.
For rentals in the U.S., Puerto Rico and Canada when the renter chooses to receive Elevate points, a Frequent Flyer Surcharge of $0.75 per day, up to a maximum of $5.25 per rental, will apply.